Lancashire PCC Clive Grunshaw expenses probe dropped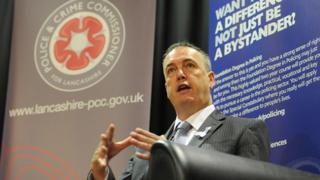 The Lancashire Police and Crime Commissioner (PCC) Clive Grunshaw will not be prosecuted following an investigation into expenses claims.
Claims made between January 2009 and December 2012 by Mr Grunshaw when he was a county councillor and police authority member had been looked at.
The Crown Prosecution Service (CPS) said there was "insufficient evidence" any had been "submitted dishonestly".
Mr Grunshaw said "after months of uncertainty", he was "delighted".
He added that following the decision, it was "business as usual in my office, as it has been throughout the duration of this investigation".
Travel claims
The investigation by the Independent Police Complaints Commission began following a freedom of information request by former Chorley South councillor Sam Chapman.
He had asked for details of mileage claims from when Mr Grunshaw attended meetings of Lancashire County Council and Lancashire Police Authority on the same days.
CPS lawyer Gemma Carsey said the investigated expenses "generally related to travel and subsistence claims for attendance at meetings for both authorities".
"We have concluded that there is insufficient evidence to prove that any claim had been submitted dishonestly," she added.
Mr Grunshaw became the county's first PCC in 2012, after having served for four years as the chair of the county's police authority.