Severe winds in Lancashire cause travel delays and power cuts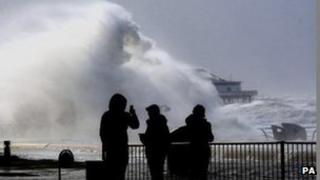 Storms have caused disruption to travel and left up to 1,000 properties without power in Lancashire.
The Met Office has issued an amber warning of severe gales in the county, with gusts up to 70 mph (110km/h).
Ferries and flights from Lancashire have been cancelled due to the gales, which have also delayed rail users.
Residents on the Fylde coast were also warned to stay indoors during the gales by the ambulance service, which said it had been inundated with callers.
Electricity North West said 200 properties in the county remained without power, though up to 800 had been reconnected.
Flights to Dublin, Tenerife and the Isle of Man from Blackpool Airport have been cancelled, as have the Isle of Man Steam Packet Company's 08:45 Douglas to Heysham ferry and the 14:15 return crossing.
The firm said the 19:45 Douglas to Heysham crossing would sail but will now set off at 21:00.
Saturday's 02:15 is subject to a 45 minute delay and is expected to depart at 03:00.
Rail users in Lancashire have also been affected by delays due to strong winds, with many Northern Rail services and Virgin Trains travelling from Lancashire to Scotland running at a reduced speed.
Virgin passengers' tickets will be valid on Saturday if they wish to avoid travelling during the storms.
The North West Ambulance Service said it had been "inundated" with weather-related calls from the Blackpool area although they were mainly minor incidents, including six people being blown over while out walking.
The Met Office's amber warning is in place until 18:00 GMT.