Blackpool Scrooge show halted after actor hit by scenery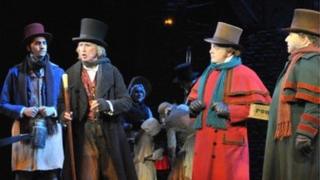 A Christmas show in Blackpool had to be halted after part of the scenery fell and injured a cast member's leg.
The scenery collapsed at the start of the second half of Scrooge the Musical, which stars Tommy Steele, at the Opera House, in the Winters Gardens.
The unnamed male cast member was treated by paramedics before being taken to hospital.
Winter Gardens boss Michael Williams said the last three shows will run as planned, until Saturday.
Mr Williams said the actor was hit by a piece of one of the mobile sets.
'Show can't continue'
He said: "The performance was halted while the actor was treated for a leg injury by paramedics.
"We kept the audience informed at all times and all visitors to last night's show are invited to come along to one of the remaining performances in the run.
"We are currently investigating how this occurred and all shows will run as planned until 21 December."
Audience member Graham Aspden, from Darwen, said: "We could hear him say 'Ow'.
"We had to wait 20 minutes and they came back on and said they couldn't move him [because] they were still waiting for the paramedics.
"We knew there was something wrong as we could hear everything on the mikes attached.
"Then they said, 'Sorry the show can't continue'."
Bill Kenwright's production of Scrooge, which opened in Blackpool on Monday, has been staged at the London Palladium.
Tommy Steele stars as Ebenezer Scrooge on the show, based on Charles Dickens' classic A Christmas Carol.