M6 Heysham link road a 'game changer', says Cameron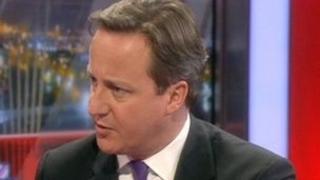 A new road linking Heysham and Morecambe was a "game changer" for Lancashire's economy, said Prime Minister David Cameron.
The Department of Transport earlier confirmed £111m of funding for the M6 link road designed to ease congestion.
Transport Solutions for Lancaster and Morecambe, which failed in its last attempt to stop the scheme last month, said the road was not the answer.
On a visit to Lancashire Mr Cameron said it would bring "big benefits".
'Green lung'
He said: "Transport infrastructure and good connectivity really matters particularly for seaside coastal communities because those that have good connectivity can really make a success of themselves in the modern world and I'm sure that will be the case with Morecambe.
"If you look at what is happening at Heysham port, and the expansion that is possible there, this road is clearly absolutely crucial."
While Mr Cameron said he sympathised with those who would lose their homes to make way for the road, he said it would bring "real benefits" to the economy, particularly to businesses and in the creation of jobs.
David Gate chair of Transport Solutions for Lancaster and Morecambe (TSLM) said the prime minister was "misguided".
"This road won't solve the congestion and the number of jobs it will create has been exaggerated," he said.
"There are other cheaper alternatives... that won't go through the north Lancashire green belt which is a green lung for the people of Lancaster."
Mr Gate, who has been TSLM chair for nine years, said sustainable transport and making small scale improvements to roads was the answer.
The M6 link project was approved by the government in March.
The TSLM challenged the decision in the High Court in October but its appeal was rejected and the group was refused permission to apply for a judicial review of the original decision.
Applications were made for the High Court's judgement to be overturned at the Court of Appeal in November, but this was rejected meaning the work on the road could go ahead.
Lancashire County Council said the scheme would provide 3,000 construction jobs.
The total cost of the road is £124.5m with the county council funding the remaining £13.5m.
Work is expected to start on the road in the new year.