David Leech family pay tribute to Leyland motorcyclist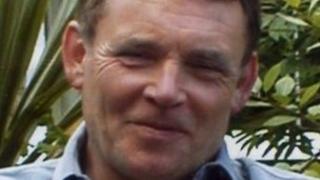 A motorcyclist who died following a collision with a car was "passionate" about riding his bike, his family said.
David Leech, 59, from Leyland in Lancashire, was involved in a crash with a Citroen Picasso on Leyland Way on the afternoon of 14 November.
He had an operation for a fractured hip and leg but developed complications and died two weeks later.
His family said he was "well known for driving his three wheeler with 'do it sober' on the mud flaps".
Grandson William "adored his granddad and would always associate him with his motorbike", they said.
They added: "He and his wife spent many days enjoying bike rides.
"He grew up in Wade Hall and on leaving Wellfield High School went into engineering and worked at Leyland Motors until joining the prison service at Wymott Prison.
"David had also worked as a police special patrolling the streets of Leyland."
Sgt Steve Wignall appealed for witnesses.