Cockle shell sculpture to overlook Morecambe Bay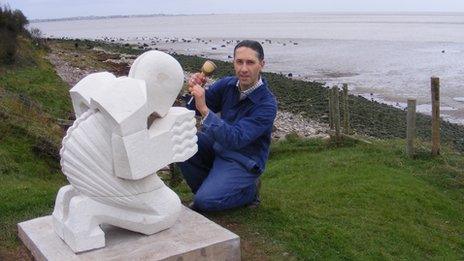 A sculpture of a praying man overlooking Morecambe Bay has been unveiled.
The Praying Shell artwork, carved in limestone, sits above the site where 23 Chinese cockle pickers working for criminal gangmasters died in 2004.
It was unveiled at Red Bank Farm, Bolton-le-Sands, Carnforth, by Lancaster councillor Ron Sands at a sunset ceremony.
Artist Anthony Padgett said it was designed to inspire walkers.
He said though links may now be made to the cockle pickers tragedy, the idea for the sculpture was born before it happened.
"It's symbolism is intended to parallel humanity's openness to a larger dimension and the way cockle shells open as the tide comes in," he said.