Tayyab Subhani relieved at being cleared of aircraft 'bomb threat'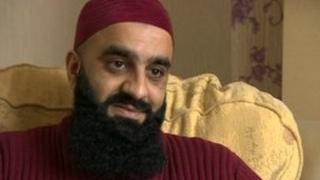 A man who spent 63 days in custody after being accused of threatening to blow up an aircraft has spoken of his relief after the trial collapsed.
Tayyab Subhani and Mohammed Safdar, from Nelson in Lancashire, were on an aircraft heading from Pakistan to Manchester that was forced to make an emergency landing at Stansted.
On Thursday the judge at their trial described the case as "tenuous".
He directed the jury to find them not guilty of endangering an aircraft.
Judge Charles Gratwicke told Chelmsford Crown Court the case was "peppered with inconsistencies".
The prosecution had claimed Mr Safdar, supported by Mr Subhani, made threats to kill air crew and blow up the plane after an argument broke out with air stewards.
'Normal person'
The plane made an emergency landing at Stansted Airport in Essex and fighter jets were scrambled.
The men denied making the threats.
Mr Subhani, 30, said when he was released on bail it was hard to face people and "difficult to even go to the supermarket" with the allegations hanging over him.
"Our religion tells us we can't even hurt a little creature, so we would never even think about doing anything like that," he said.
"I'm just a normal person who wants to live a normal life without hurting anyone.
"I would never have made any threat of blowing up an aeroplane or killing anybody.
"I just want to move on with my life."