Queens Park: A view from Blackpool's high rise towers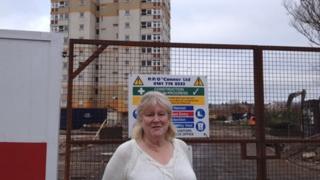 With demolition work under way on Blackpool's only high rise flats, will anyone be sorry to see them go?
The five tower blocks at Queens Park in Layton, which have been part of the resort's skyline since the 1960s, are being pulled down to make way for almost 200 ground-level family homes.
Described by residents as "festering" and "notorious", many have welcomed the start of the process to remove the five towers from the landscape.
One resident, who wanted to be known only as Julie, said she could not wait to see the towers go.
"They need to come down; they're festering," she said.
'Real stigma'
As well as the buildings' bad state of repair, Julie said residents had to put up with being judged for their address.
"There's a real stigma for my children living on the estate when they go to school and when you're applying for jobs," she said.
"It has a bad reputation and you tend to all get lumped in."
Tony Fielding, 56, who lived in the flats for two years, said he never had any such issues.
"The perception is the flats are full of druggies and drunks and unemployed people but it doesn't deserve it," he said.
"I had no problems and I worked when I lived there."
He welcomes the move to houses rather than high rise flats though.
He said: "I love living in Layton but I felt cut off in the flats - I much prefer living on the ground level."
Mr Fielding said a few residents were disgruntled at the towers going.
"It was people who have lived here for 40 years and don't like change.
"The flats needed a lot of improvements. Progress is progress and looking at the plans it will be a lot better."
Brunswick councillor Gary Coleman said the resort desperately needs the new housing which will replace the flats.
He said: "There are too many one bedroom apartments in Blackpool; we need housing for families."
While he will not miss the high rises he said it will be strange not to see them.
'Like a beacon'
However, the demolition of the 500 flats will be tinged with sadness for Gwen King, the chairman of the Queens Park Residents Association (QPRA).
She lived in Charles Court, one of the first two blocks to be demolished along with Ashworth Court, since moving from Southend on Sea.
She said: "The towers are like a beacon. I've had 12 very happy years here and I would have loved to live out my last days there and call it my forever home.
"I'm very proud to live on this estate; we are like a big family."
The 62-year-old said the majority of residents voted for demolition although she voted to redevelop two of the tower blocks for the over 50s and demolish the other three.
She has accepted the decision particularly as it means people with children can now settle on the estate.
"[The high rises] are a 1960s thing and it's past its sell by date; no one wants to live in damp and windy buildings that aren't energy efficient."
Ms King runs the QPRA community centre where she said residents call in for everything from legal advice to a friendly chat.
The former humanitarian worker and trained counsellor has worked all over the world including Bosnia, Croatia and South Africa.
Has her experience in war zones helped prepare her for living and working in the formidable Queens Park estate?
She said the estate does not deserve its reputation.
"Maybe 15 years ago it was bad but there has been a lot of good multi-agency work done here with the police, social workers and Blackpool Council.
"Yes we have our problems with drug users, drunks and anti-social behaviour but no more than anywhere else."
Her only concern for the new housing scheme is that it does not lose the camaraderie of the people on the estate.
"It has a lovely community spirit and I hope this does not wreck that," she said.