Final bid to stop Heysham-M6 road link fails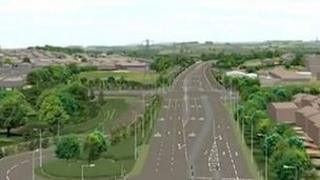 A road linking Heysham and Morecambe to the M6 will be built after a final attempt to halt it was rejected by the Court of Appeal.
Judges dismissed a Transport Solutions for Lancaster and Morecambe (TSLM) application to have a ban on a judicial review of the £124.5m road overturned.
TSLM has claimed the road will not help congestion or regeneration in the area.
A Lancashire County Council spokesman said fighting objections by TSLM had cost £2.6m.
He said the road was needed to drive economic growth and was supported by businesses.
The scheme was approved by the government in March.
TSLM took its case to the High Court in October but its appeal was rejected and the group was refused permission to apply for a judicial review of the original decision.
Applications were made for the High Court's judgement to be overturned, but the judges' final decision means work can begin on the road.
'Extremely frustrated'
Morecambe and Lunesdale MP David Morris said he welcomed the decision.
"The Heysham M6 Link Road will be a much needed asset to the local community and will provide an economic boost to the local community bringing new jobs to the constituency.
"When I speak to local businesses they tell me that they want the road to be built."
Councillor John Fillis, cabinet member for highways and transport, said work on the road would start in the new year.
"Whilst I'm very satisfied at the strong judgement in our favour, I'm also extremely frustrated that objectors have cost the people of Lancashire an extra £2.6m by pursuing what amount to no more than delaying tactics."
The road will ease congestion, provide 3,000 construction jobs, and provide better access to the area and Heysham Port for residents, businesses and tourists, the council said.
The Department for Transport will contribute £111m to the project and the council will fund the remaining cost of £13.5m.