Plans to redevelop empty Lancaster city market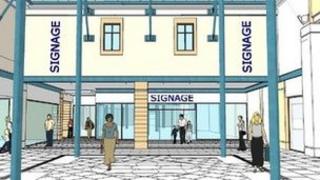 Plans for a £10m redevelopment of Lancaster Market have been submitted to the city council.
London-based firm Allied Lancaster Ltd hope attracting a tenant with a high profile on Britain's high street will stop trade being lost to other towns.
Managing director Darren Sharpe said: "If we can deliver this it will be good for the city centre."
The council voted to close the market a year ago in an effort to reduce its annual losses on the lease.
Councillor Jon Barry, cabinet member for markets, said: "I think it's important that the market building is used, so it's very good that plans are coming forward."
The plans include the closure of the entrance in Common Garden Street, with a new entrance in the shopping centre.
Jerry North, from Lancaster District Chamber of Commerce, described it as "excellent news".
"The fabric of the main building stays as is, so we don't lose a nice piece of architecture from the outside," he added.
The council will discuss the plans in the new year.