Fulwood academy placed in special measures by Ofsted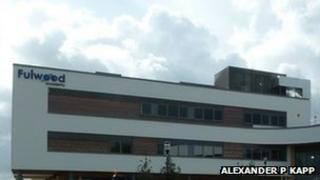 A Lancashire academy school has been deemed "inadequate" and has been placed in special measures by schools inspection body Ofsted.
Preston's Fulwood Academy, which opened in 2009, was inspected in October.
The achievement of pupils, quality of teaching and leadership and management at the school have all been deemed inadequate in the report by Ofsted.
The academy's sponsor and head teacher both said it must now "place greater emphasis on... academic progress".
The inspection also found behaviour and safety of pupils required improvement.
It said governors did not have a clear understanding of pupils progress.
In maths and English the academy's pupils were below average and "lack confidence" according to the inspection report.
In a joint statement principal Richard Smyth and sponsor Sir Charles Dunstone said: "As a school we place the greatest emphasis on discipline, attendance and personal development.
"Ofsted have indicated to us that we must now place greater emphasis on our academic progress and we are confident that the school is now ready to take on this challenge."
The secondary school on Black Bull Lane in Fulwood has almost 800 pupils, including 102 sixth form students.