Bacup Coco-nut Dancers' plight raised in Parliament again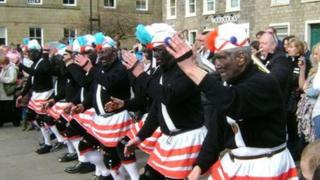 An MP fighting to save a traditional folk dance event says the government should stop councils enforcing health and safety rules in a heavy-handed way.
The Britannia Coco-nut Dancers from Bacup in Lancashire have staged the Easter Boundary Dance in Rossendale for more than 150 years.
Lancashire County Council has said providing road closures costs money.
The government pledged to investigate the case after Rossendale and Darwen MP Jake Berry raised it in Parliament.
'No problems for 156 years'
Conservative MP Mr Berry said the authority was trying to block the dance procession for a second time.
Mr Berry said it was "absurd" one of the longest-running traditions in East Lancashire was under threat because of health and safety procedures.
He said: "It has run for 156 years without any problems."
The county council said it was not trying to stop the event and it was committed to keeping it going.
It said two main roads, the A681 and A671, were closed for periods during the eight-hour dance procession and organisers would have to pay for providing traffic management.
Mr Berry also raised the issue in the House of Commons last year after the council told organisers the charge would be in place for the 2013 event, for the first time in the dance's history.
The dance troupe said it could not run the event because the charge exceeded the amount of money the event raised for charity.
However, it had a reprieve after Lancashire Police agreed as a goodwill gesture to provide the traffic management for one year only.
Moorish garb
Joe Healey, secretary of the Britannia Coco-nut Dancers said: "The authorities should champion our cause not put the brakes on it.
"We are a unique folk group that comes from the mines and quarries of the 19th Century and a tradition that this dance troupe in a moorish garb danced boundary to boundary on Easter Saturday.
"I can't understand why the authorities are coming down so hard on us. There has never been an incident, no accidents at all."
Daniel Herbert from the county council said: "We are very keen to find a way to enable this traditional event to go ahead next year and fully expect to meet again with the Coco-nutters and the police to explore the options available.
"We do need to find a solution that lets the event go ahead, keeps everyone involved safe and minimises traffic disruption."
The dance starts at the village of Britannia, then heads to Bacup and finishes at the border with Waterfoot.
The Nutters blacken their faces to reflect the mining traditions of the group.