Chef Paul Heathcote MBE pays out £10,000 for flouting tax laws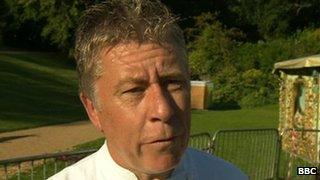 A top chef and restaurateur has been ordered to pay more than £10,000 for "flouting" a trading ban.
Paul Heathcote, 53, of Preston, Lancashire, continued to trade at his two restaurants despite being warned he must pay VAT security or cease trading.
He faced 30 charges under the VAT Act at Preston Magistrates' Court following an HM Revenue and Customs (HMRC) probe into unpaid taxes.
Mr Heathcote has since paid £25,000 security for his Preston restaurant.
'Numerous opportunities'
HMRC launched an investigation when his previous company The Longridge Restaurant was de-registered for VAT in 2011 owing almost £100,000 in unpaid taxes.
Mr Heathcote then registered two new companies - PH Restaurants (Longridge) Ltd and PH Restaurants (Preston) Ltd - on the same day, HMRC said.
He was sent written notices ordering him to pay a £72,200 VAT security for taxable goods or services supplied at his Lancashire restaurants.
Colin Spinks, assistant director of criminal investigation at HMRC, said: "Mr Heathcote was given numerous opportunities to continue trading legitimately but he chose to flout the law.
"We will take action to ensure the correct tax is paid and investigate those who are subject to a trading ban because they owe VAT."
Mr Heathcote, who was appointed an MBE in 2009, was fined £3,000 and ordered to pay £7,052 in compensation.