Nelson houses saved from demolition after campaign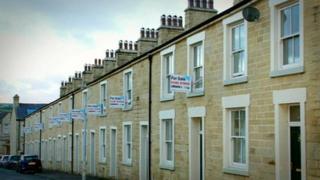 A row of boarded-up terraced properties in a Lancashire street have been restored by the council after a campaign to save them.
Some of the 81 traditional "two-up, two-down" houses on Mosley Street in Nelson have been knocked through to become larger family homes.
Pendle Council leader Joe Cooney said about £100,000 had been spent on each.
Campaigners who called for the homes to be improved rather than demolished said it had made "a heck of a difference".
Sylvia Wilson from the Whitefield Action Group said the renovators, who have converted some adjacent properties into four to six-bedroom homes, had "made a good job of it".
Mr Cooney said: "We are in a conservation area so we've been very careful to work with English Heritage to make sure we retain that traditional terraced look.
"Sixty percent of Pendle's property is terraced, so it's a nod back to our heritage of the industrial age."
Funding for the renovations has come from the Homes and Communities Agency, Housing Market Renewal Funding and from Pendle Council.
The houses are now up for sale between £80,000 to £135,000.