Father and son loan sharks from Preston must repay £300,000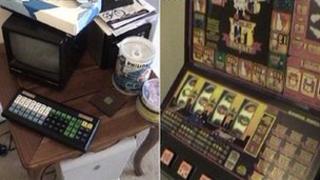 A father and son jailed for running illegal money lending and gambling businesses have been ordered to hand over more than £300,000 to the courts.
James Alston Senior, 75, was sentenced to 18 months and his son James Alston Junior, 46, to a year in prison at Preston Crown Court in July 2012.
The pair, from Preston, ran an unlicensed "gambling den" with a fruit machine and three TV screens on the ground floor of one of their homes.
They then lent and laundered money.
Having made £600,000 over six years, they were said to own four houses.
'Total misery'
During an investigation into their activities by the England Illegal Money Lending Team and Lancashire Trading Standards in June 2010, £19,000 in cash was seized from their homes.
Notebooks were found listing more than 60 people that had borrowed money.
Many of those who borrowed money were hit with steep interest payments and never given any paperwork so they could not tell how much they were actually repaying.
Janice Hanson, of Lancashire County Council, said: "People like the Alstons cause total misery to people who have the misfortune to borrow money from them.
"It's hard to imagine how frightening it must be for victims who are faced with having to pay back considerably more than they had borrowed in the first place at extortionate levels of interest."
Tony Quigley, from the England Illegal Money Lending Team, said: "This was a father and son team that were operating an illegal gambling business, but to make matters worse they also decided to delve into the illegal money business as well.
"It meant that people who were using this illegal gambling den were also then tempted to chase the win by being given loans as well. This then extended further out into the community."
He added the money recovered will be used to combat crime and "raise awareness of the perils of using loan sharks".