'Most-wanted' criminal evades police in Lancaster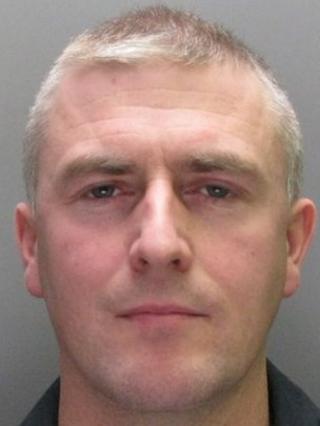 One of the most-wanted men in the country has evaded police by driving off when pulled over, injuring one of the officers who tried to stop him.
Brian Thexton, 37, named on Thursday as one of 13 wanted by the National Crime Agency and thought to be in Spain, was stopped by Lancaster police on Friday.
He is wanted for being part of a gang of robbers and is also awaiting trial for conspiracy to supply cocaine.
He is thought to be dangerous and should not be approached, police said.
Mr Thexton, who is from Durham, was named by the NCA on a list of most-wanted criminals thought to be on the run in Spain.
Police are now hunting for him in Lancashire following the incident at about 09:00 GMT on Friday.
After the officer leaned into the car to turn off the ignition the vehicle was driven off, trapping the officer's arm and dragging him a short way down Aberdeen Road.
The car mounted a kerb, narrowly missing pedestrians, officers said, and was later found burnt out on Fernham Carr Lane.
The police officer was not seriously injured.
In one of the robberies Mr Thexton is accused of, the gang impersonated police officers to dupe the victims into opening the door, before brandishing a pick axe handle and a baseball bat.
Police said a team of officers has been dedicated to tracking down the driver and they were liaising with a number of other forces across England.
Det Insp Bev Foster, of Lancashire Constabulary, said: "This man has shown himself to be dangerous and to have very little regard for his actions and so we would ask the public to be vigilant and not to approach him but report any sightings to the police immediately - any details the public may have could be crucial."