Blackpool Council cuts 700 jobs and services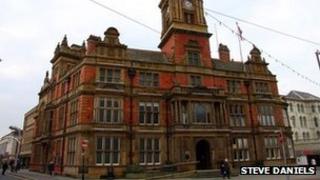 Blackpool Council is to cut 700 jobs as it tries to make savings of £36m over the next two years, the authority's leaders have announced.
Staff have been asked to consider options such as voluntary redundancy, five days unpaid leave a year and a pay freeze.
Cutting services is an "impossible task but one we have to do", said council leader Simon Blackburn.
The workforce has been reduced by a quarter since 2010.
Mr Blackburn added: "The prospect of losing £36 million over the next two financial years is incomprehensible.
"People who work hard every day serving the people of Blackpool do not deserve to lose their jobs but we have no choice."
'Impossible task'
He added: "How are we meant to find that further cut out of our already decimated budgets?
"How are we meant to decide what's more important between keeping the streets clean, protecting children at risk and supporting vulnerable adults?
"It's an impossible task but one we have to do.
In the next financial year cuts of £15.8m will leave the Labour-run council with a budget of £141m.
One area to come under the spotlight will be "new ways of funding and delivering the illuminations".
The authority plans to make cuts to supported housing schemes including the Phoenix Centre - its residential service for people with mental health problems.
Cuts will also be considered to children's centres, Hornby Road Residential House for disabled children and its Families In Need team.
It has though pledged to protect social worker roles along with frontline street cleaning teams, school crossing patrols and libraries.