Runaway pigs in Forest of Bowland found 'safe and fat'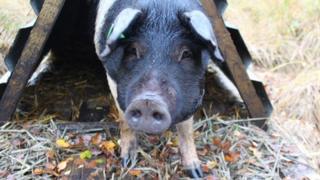 Three young runaway pigs have been found "safe and well", the Lancashire Wildlife Trust has said.
The three six-month-old saddleback sows escaped from an enclosure in woodland in the Forest of Bowland close to Clitheroe around a month ago.
A farmer spotted the missing pigs and after a "bit of pig wrestling" by three men the trio were captured.
The pigs, which were in woodland as part of a trial to encourage natural regeneration, had "doubled in size".
'Unperturbed by exploits'
The Lancashire Wildlife Trust's East Lancashire reserves officer Phil Dykes said: "We found them on moorland belonging to another farmer and that farmer, the pigs' owner and myself were able to capture the three after a bit of pig wrestling.
"They are now safely back in the woodland, but they seem to have almost doubled in size since they went missing, probably because of the large amounts of acorns around at the moment."
He added the pigs seemed unperturbed by their exploits and were happily eating their food in the woodland.
The pigs, owned by Jack and Flusk from Wigan, are being used to graze the woodland as part of a trial.
The trust said it represented a return to traditional methods to improve the health of the wood for the benefit of birds and other wildlife.
Lancashire Wildlife Trust already uses longhorn cattle and sheep to graze its reserves.
The animals are able to cut the grass in a way that helps to create habitats for native mammals, birds and insects.