Ex Lancashire soldier finishes 18th marathon in 18 days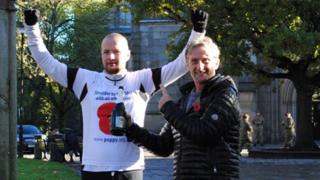 A former soldier from Lancashire has completed 18 marathons in 18 days in memory of 18 of the county's fallen servicemen.
David Moretta, 26, from Ribchester started off at Weeton Barracks on 24 October and finished his last marathon run at Blackburn Cathedral.
He finished in time to attend the cathedral's Remembrance Sunday service.
The lifeguard who served with the Queen's Lancashire Regiment was raising funds for the Royal British Legion.
'Incredible achievement'
Each marathon was in honour of one of the 18 Lancashire servicemen who have been killed in Iraq or Afghanistan.
He said the final run for Royal Marine David Fairbrother, with whom he played football, was particularly poignant on Remembrance Sunday.
"It is a very special day to me, like every soldier."
He said he decided to do the challenge to "kick off the Poppy Appeal with a bang".
He said he knew five of the men who had died in service.
"They were cracking soldiers and great athletes."
Former World Superbikes champion Carl Fogarty from Blackburn was amongst the well-wishers at the finishing line.
Fogarty was so impressed by his feat he wanted to congratulate him personally.
He said: "It's an incredible achievement."
Mr Moretta said the 468-mile (753 km) challenge was "tough" but adrenalin kept him going.
He said he was proud to do the challenge and had learnt a lot from it.
He added: "This wasn't about me - it's about the lads and appeal."
The 26-year-old said his next challenge is a world record attempt in January.