Accrington Victoria walk-in centre vigil staged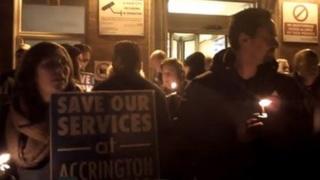 Campaigners have staged a candlelit vigil in support of a walk-in centre under threat of closure in Lancashire.
The future of Accrington Victoria Health Access Centre is under review and its contract is due to expire in October 2014.
Vigil organiser Milnshaw councillor Paul Cox said closing it would be a "disgrace" as it is "massively used".
NHS East Lancashire Clinical Commissioning Group (ELCCG) said no decision had been made on its future.
'What is going to happen?'
Labour councillor Mr Cox said: "It is a massively used service.
"If they shut it, it will mean people will have to travel all the way to Blackburn's A&E department.
"Blackburn's A&E already takes in patients from a wide radius, especially after Burnley A&E unit was shut. This will put even more pressure on it."
Russ McLean, chair of Patient Voices Group, who also took part in the vigil, said shutting the centre would be "madness".
"We have in Blackburn the busiest A&E centre in the North West.
"In October, when this contract finishes, what is going to happen to those patients? Are they going to be able to go Blackburn A&E?"
He said: "I'm very fearful for patients."
Chair of ELCCG Dr Di van Ruitenbeek said "options" for the centre would be discussed with Hyndburn Borough Council on Thursday following a public consultation in which the group received feedback from "around 900" people.
She said a public meeting about the centre, based at Accrington Victoria Community Hospital, will follow on 25 November.
Dr van Ruitenbeek said: "We do recognise the usefulness and local benefits of the walk-in service."
The centre was attended almost 35,000 times between October last year and September, the ELCCG confirmed.
The walk-in centre is open daily to patients between 08:00 and 20:30.