Runaway pigs escape woodland enclosure in Forest of Bowland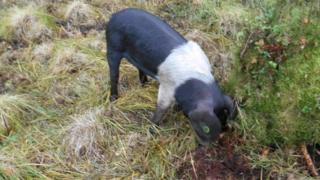 Three young pigs have gone missing from woodland in the Forest of Bowland, the Lancashire Wildlife Trust has said.
The saddleback sows, all aged about five months, were being used to graze the woodland as part of a trial to encourage natural regeneration.
The trust believes the runaways escaped their enclosure and "could have covered some distance".
The pigs, which are black with a pink band around the centre of the body, may be heading towards Bashall Eaves.
Trust officer Phil Dykes said the search has been on to find clues as to their whereabouts.
"Looking out for places where the ground has been dug up or finding pig dung, has enabled us to work out which direction they headed from their enclosure," he said.
"Any possible sightings would be good to hear about."