Blackpool Walkabout bar opens after fire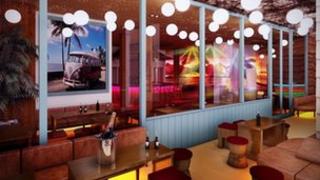 A bar in Blackpool has reopened following a £3m refurbishment to repair damage caused by a fire.
Up to 90 firefighters worked for several hours to control the blaze at Walkabout on Queen Street, which started in the early hours of 19 June.
The fire, caused by an electrical fault, left 12 live-in staff homeless.
The staff found jobs in other Blackpool bars, or were given jobs in other Walkabouts across the UK. The re-opening has created 35 new jobs.