Fuel tank blast firm fined £91k after worker seriously burnt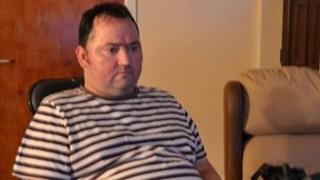 A Morecambe firm has been ordered to pay £91,000 by Preston Crown Court after a worker cleaning a fuel tank was seriously injured in a blast.
Karol Robaczewski, 38, of Morecambe was inside a fuel tank when he was engulfed by a fireball on 9 September 2011.
The court heard it caused severe burns and left him almost completely paralysed and reliant on a wheelchair.
Fuel Proof Ltd, which makes airport fuel tanks, admitted safety failings at an earlier hearing.
The Health and Safety Executive (HSE) said Mr Robaczewski was cleaning the inside of the tank using a cloth with a highly flammable solvent when he unplugged a lamp which was getting hot.
'Appalling and shocking'
As he did so, a spark caused an explosion, the HSE said.
The fire melted the visor on his mask and his protective suit and only the elastic from the collar and cuffs were left.
Mr Robaczewski suffered multiple burns including to his arms, legs and face. His hair and eyebrows were burnt off and his lips badly burnt.
The HSE investigation found Fuel Proof had failed to carry out any risk assessment on the cleaning of the tanks.
It also found there was no supervision of workers or monitoring of the fumes in the tank and masks and lighting provided were "entirely unsuitable".
Fuel Proof Ltd was fined £66,000 and ordered to pay prosecution costs of £25,000 after pleading guilty to breaching section 3.1 of the Health and Safety at Work Act 1974.
Speaking after the hearing, HSE inspector Rose Leese-Weller said: "Karol suffered horrific injuries in the explosion and will need to use a wheelchair for the rest of his life.
"It is shocking that Fuel Proof allowed workers to use a highly flammable solvent to clean the inside of fuel tanks for four years without giving a single thought to the risks.
"What's even more appalling is that there was never any need for workers to use solvents to clean the tanks, as the company now uses soapy water to clean them out."
'Life will never be the same'
Mr Robaczewski said: "I wish that what has happened to me never happens to anyone else. I am not able to lift my arms, move my legs and feet or hold anything in my fingers and hands.
"Every morning after breakfast, I am moved into my wheelchair and stay there until it's time for bed.
"I am not able to do anything I used to do before the accident such as drive, go to karate sessions or play my trumpet which I played since the age of 12.
"I can't play football with my son or give my children a cuddle, and my life will never be the same again."