Blackpool Council fined over 'horrific' Claremont Park swing injuries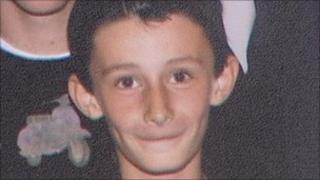 Blackpool Council has been fined £18,000 after a boy suffered "horrific injuries" when a park swing fell on him.
Jamie Jackson, 10, suffered a fractured skull and brain injury when a swing's suspension mechanism collapsed on him at Claremont Park in June 2011.
The council was told four times the swing needed urgent attention.
Council leader Simon Blackburn said it accepted "full responsibility for the events that led to this accident".
The swing consisted of a large tyre attached to a curved frame, suspended from a metal attachment by long steel chains.
Jamie was playing on it when the suspension mechanism gave way and hit him on the head.
'Truly sorry'
The Health and Safety Executive (HSE) said the council was told by a Royal Society for the Prevention of Accidents engineer that the swing needed "urgent attention" in March 2010 and in three more inspections as the suspension mechanism was not rotating properly.
HSE inspector Michael Mullen said the 10-year-old had suffered "a potentially life-threatening head injury when playing at a park because Blackpool Council failed to act on information generated by its own health and safety management system".
"If the swing had received urgent attention as recommended, then the horrific injuries the boy suffered could have been avoided."
Mr Blackburn said the council, which pleaded guilty to a breach of the Health and Safety at Work Act 1974, was "truly sorry" over the accident.
"We thought we had an inspection regime that would ensure faulty equipment was quickly replaced or repaired.
"Unfortunately, that was not the case and we accept full responsibility for the events that led to this accident."
He added that the authority had put "an even more robust inspection regime" in place.
The council was also ordered to pay £20,000 in costs.
The HSE's investigation concluded that poor repair work carried out on the swing in 2009 was likely to have contributed to its deterioration, meaning the same issue was unlikely to occur on other similar swings.