Julian Henderson inaugurated as new Bishop of Blackburn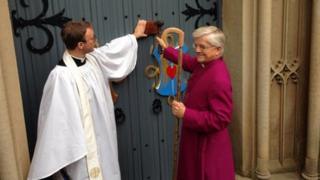 The new Bishop of Blackburn, the Right Reverend Julian Henderson, has been inaugurated at the city's cathedral.
Bishop Henderson, 59, becomes the ninth person to take on the role and the most senior cleric in the Church of England in Lancashire.
He recorded an "introduction" interview on the Diocese of Blackburn's new YouTube channel to mark the occasion.
During the service he spoke out in favour of women clergy. He also supports the idea of women bishops.
He is expected to become the first Bishop of Blackburn to ordain women as priests.
Bishop Henderson was previously Archdeacon of Dorking in Surrey and succeeds the Rt Rev Nicholas Reade who retired in October.