Retired police sergeant guilty of 'appalling' child abuse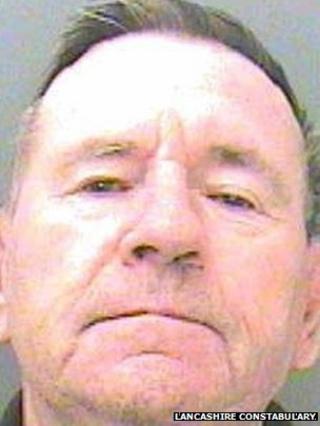 A retired police sergeant has been convicted of inflicting "appalling" sexual and physical abuse on two children.
Jeffrey Lake, 78, was extradited from his home in Australia to stand trial for the offences, mostly committed when he was in the police.
He was convicted at Preston Crown Court of 20 charges of historical child abuse, including rape.
Mr Lake was remanded in custody and will be sentenced on 24 October.
The court heard the victims were subjected to "quite appalling abuse" between 1960 and 1974, when Mr Lake was an officer in Accrington, Lancashire and Liverpool.
Mr Lake was extradited from Australia, where he had emigrated, in March.
'Unable to cope'
The first victim made the complaint to police in December 2009, the court heard.
Prosecutor Louise Whaites told the court the female victim went on to suffer from depression and anxiety and had attempted suicide, as had the other male victim in the case.
She said: "She was clearly unable to cope with what happened to her."
Miss Whaites told the court the victim wrote letters to the defendant telling him how she felt about what he had done to her, but he never replied.
"It is the Crown's case that both were subjected to quite appalling abuse, which over many years they have found very difficult to come to terms with," Miss Whaites said.
Mr Lake, who has also lived in Oldham and Maghull, retired in 1990 and emigrated to Australia in 2002.
Denied all charges
The charges included indecency with a child and indecent assault.
In evidence, Mr Lake denied all the charges against him and said he was "not of the persuasion" of someone who sexually abuses children.
He said he had never thought of returning to Britain since his move because he had no reason to do so and the expense of travelling.
Trial judge Mr Justice King praised the jurors. He told them: "Thank you for the care and attention which you paid to this case. These cases are never easy."
Ch Supt Bob Eastwood, of Lancashire Constabulary, said: "These were despicable offences committed against two young children, made all the more sinister by Lake's insistence of innocence and his attempts to persuade the jury the victims had invented the abuse."