Rossall and Anchorsholme sea defence schemes secure £86m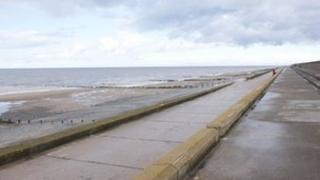 An £86m sea defence scheme has been announced for the Fylde coast in Lancashire.
The government has approved the funding for flood defences at Rossall and Anchorsholme.
The Department for Environment, Food and Rural Affairs (Defra) has pledged £64m for defences at Rossall and £22m for Anchorsholme.
The scheme aims to protect 12,000 properties from coastal flooding.
The seawalls between Rossall Hospital and Rossall Point and Kingsway to Little Bispham at Anchorsholme, will be improved under the scheme.
'Fruitful collaboration'
The Fylde Peninsular Coastal Programme (FPCP), a partnership between Wyre Council, Blackpool Council, Fylde Council and the Environment Agency, worked together to secure funding for the project.
Councillor Roger Berry, cabinet member with responsibility for sea defences at Wyre Council, said: "Although Rossall and Anchorsholme are two different schemes in terms of the type of defences required, Wyre Council and Blackpool Council along with the Environment Agency have formed a very fruitful collaboration to ensure the future protection of the Fylde coast."
The work is expected to be completed in 2015.
The FPCP is also bidding for £17m for sea defences improvements between Fairhaven Lake and Church Scar, Lytham.
Councillor Fred Jackson, cabinet member for urban regeneration at Blackpool Council, said: "The reconstruction of the seawall is of huge importance and will protect the community of Anchorsholme, their homes, local businesses and highways from flooding and coastal erosion, whilst improving access to the beach."