Almost 200 object to solar farm in Heapey, Chorley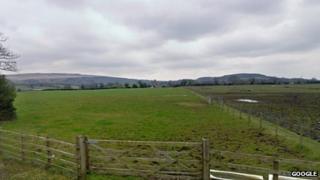 Almost 200 residents are opposing plans for a solar farm on land in Lancashire.
A planning application has been submitted to Chorley Council to put solar panels on green belt land in Heapey, near Chorley.
Resident Peter Smith said he was "appalled" by the plans and he said it would impact on tourism in the area.
The firm behind the plans Cassidy + Ashton Group Ltd said it was green, pollution-free energy and the impact on the area would be "very limited".
'Outstanding natural beauty'
Mr Smith said it would spoil the views.
"It's an area of outstanding natural beauty and gets thousands of visitors a year.
"This site is visible from beauty spots around the area and the mere thought of it is appalling," said Mr Smith.
Alban Cassidy from Cassidy + Ashton Group said: "The impact is very limited, it is over a very small area and very contained with new planting which can help biodiversity of the birds and animals in the area.
"It's not going to cause the level of harm people are thinking."
He said the solar panels would not ruin the countryside views.
Mr Cassidy said: "Because the solar panels are so efficient and so unreflective it is just a darker area within the landscape.
"Beyond the site boundary, with the new planting and the surrounding area, you wouldn't see a lot unless you were actually within the farm itself."
He said the panels would produce enough energy to power 2,000 homes.
The consultation period ends on 18 October.
Chorley Borough Council said the application for 25 years is scheduled to be considered on 19 November.
Work on the 45 acre (18 hectare) site around Black Brook, Chapel Lane and Tithe Barn Lane could start "before Christmas" if approved by the council, the firm said.