CQC: East Lancashire health service whistleblowers 'increase'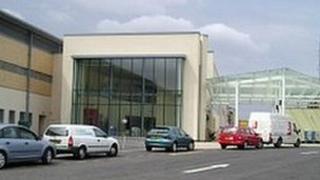 About "five whistleblowers are coming forward a week" in East Lancashire with concerns over health services, the health watchdog said.
It comes as the Care Quality Commission (CQC) revealed a series of failings at East Lancashire Hospitals NHS Trust.
Royal Blackburn Hospital was inspected in July after a whistleblower raised concerns and a number of problems in Accident and Emergency were discovered.
ELHT said it took the concerns raised within the CQC report "very seriously".
The CQC said in the wake of the Staffordshire NHS scandal, patients and staff were more inclined to come forward with concerns, so transparency was increasing.
A CQC inspection, which focused on Accident and Emergency (A&E), identified the trust was failing to meet three out of four national standards reviewed.
'Dignity not respected'
Inspectors found "escalation wards", where patients were sent during a shortage of emergency beds, had inadequate washing and toilet facilities and were attended by agency staff.
They also reported a woman wearing a hospital gown that was open at the back, so her "personal privacy was not respected".
Dawn Hodgkins, from the CQC, said a former member of staff at the trust "raised concerns about staff supervision in A&E and targets were being put in front of patients' needs".
She said: "We found that patients' dignity was not respected and the trust's own mechanisms for identifying issues weren't effective, so staff weren't always reporting incidents as they should be, so the management couldn't take effective action.
"Also, training wasn't what it should be within A&E, particularly around child protection training".
'Excellent workforce'
Mark Brearley, chief executive at the East Lancashire trust, said: "We have taken the concerns raised within this report very seriously and have an action plan in place that we have shared with the CQC. This inspection took place in July following the Keogh Review and we have already addressed a number of the issues.
"We deliver excellent care every day, the quality of care and ensuring the dignity and safety of all our patients is the number one priority for us and I want to assure all our patients, their families and the general public that we will always listen to what you tell us and learn from your experiences, and I am sorry that sometimes we haven't done this.
"We have an excellent workforce who we are very proud of, who are committed and deliver excellent care every day."
He said care had improved in escalation areas, bed capacity had increased and action had been taken to improve staffing levels and training.
The trust, which also runs Burnley General Hospital, was placed under special measures after Sir Bruce Keogh's investigation into hospital death rates.
The investigation was sparked by concern over the Mid Staffordshire trust.