Ireby Fell land claim villagers lose appeal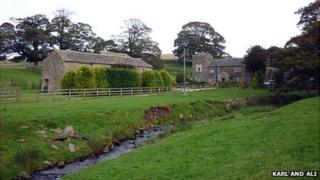 Villagers have lost an appeal against a land owner's claim on part of Lancashire's highest moor.
They contested Peter Burton's ownership of Ireby Fell, following his 2005 purchase of Ireby's Over Hall.
Previously the villagers successfully argued that Mr Burton should not have the title Lord of the Manor of Ireby as it had lapsed with the Land Registry.
But Appeal Court judges have upheld the High Court's ruling that he is the owner of 360 acres of the fell.
In 2010, Land Registry deputy adjudicator Simon Brilliant ruled that while Mr Burton could not call himself "Lord of the Manor", as the title had lapsed, the effort and money which the couple had put into the land showed they had taken an "active and responsible role".
He added that it was "far better that the fell should be owned than left in limbo".
Villagers Eric Walker and Carole Scott claimed it was common land, though Mr Burton has respected walkers' rights of access to the fell.
The case is thought to have cost villagers more than £650,000.
Three judges at the London Appeal Court dismissed their claim, saying they had not established the High Court judge made a "wrong" decision.