Silverdale Viking hoard: Treasure gets permanent home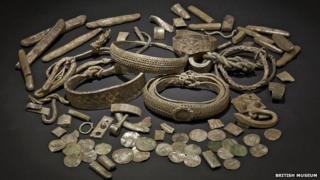 Viking treasure, valued at £110,000, is to go on permanent display in Lancashire.
The Silverdale Hoard, made up of more than 200 pieces of silver and jewellery, was found two years ago in a field by a metal detecting enthusiast.
It will be on display at Lancaster City Museum from 25 October, before moving to a permanent home at the Museum of Lancashire in Preston in February.
The items are believed to date from about AD900.
The hoard contains coins bearing the name of a previously-unknown Viking ruler of northern England.
It also includes 10 complete arm rings, two finger rings, six bossed brooch fragments, a fine wire braid and 141 fragments of chopped-up arm rings and ingots, known as hacksilver.
It was declared treasure by Lancashire deputy coroner Simon Jones in December 2011.
Lancashire County Council secured donations from the National Heritage Memorial Fund, the Art Fund and the Victoria and Albert Purchase Grant Fund to buy the hoard.