Grandfather's ashes stolen in Burnley burglary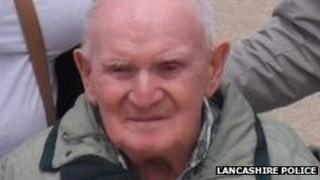 A woman whose grandfather's ashes were stolen after her house was burgled while she was on holiday has called the theft "soul destroying".
Thieves broke into Claire Wynn's home in Brownhill Avenue, Burnley between 3 and 4 October.
The ashes of John Clarkson, which were in a mahogany casket, were taken along with several other items.
Mrs Wynn, 37, said her family was "really upset", adding that "no words can describe how we feel right now."
Mr Clarkson died in January aged 91.
A gold Masonic steward's medal, DVD player, games console and tablet computer were also taken in the robbery.
PC Nicola Heap said that having something "something of this sentimental value [taken] makes it so much worse".
"I'd even appeal directly to the burglars themselves to do the right thing and return these items as they may not have realised what they had taken," she said.