Blackpool Body Piercing Clinic prohibited from trading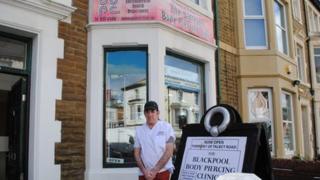 A body piercing clinic at the centre of a health scare has been ordered to stop trading for a second time by Blackpool Council.
The authority said there were safety concerns over the hot water and electricity supply at Blackpool Body Piercing Clinic on Thursday.
It contacted 120 clients of the clinic by text on Monday, warning they could be at risk of an infection.
Owner James Woods said he has been re-inspected and was now able to trade.
The clinic had its electricity disconnected in August and was subject to a prohibition notice on 17 September after an inspection of the premises by council officials following a complaint.
The council said electricity was needed to power an autoclave device to sterilise piercing tools and jewellery.
Mr Woods said he was using an autoclave every night at a friend's house to sterilise piercing equipment while the supply was off for "a couple of weeks" after contesting an electricity bill.
He then used a generator and after an inspection the council allowed him to trade again last Saturday.
HIV tests
However, on Monday the council said it believed Mr Woods conducted piercings while he had been under the prohibition notice and said clients could be at risk of infection.
It contacted clients believed to have been pierced in the interim and urged them to contact Public Health England which is advising blood tests, including tests for HIV and hepatitis.
On Thursday the council issued two further notices to the clinic under the Health And Safety At Work Act.
Councillor Gillian Campbell, cabinet member for public protection, said: "It is a breach of local by-laws for a piercing establishment to operate without hot water.
"The order prohibits piercing at the clinic until the issues are resolved."
Mr Woods, who has been piercing for 28 years, said: "Of course I had hot water.
"[The council] disconnected my generator because they said it wasn't plugged in right and that's the only reason I have no hot water."
He said a council official had since returned to inspect the generator and hot water and passed it so he could continue to trade.
The 46-year-old, who denies trading during the notice period, added: "I would never ever put my clients or myself at risk of HIV or hepatitis.
"I am devastated. I can't believe they would put my clients in all this worry without any evidence, especially when some are as young as 14."
A Public Health England spokesman said: "As part of the risk assessment for this issue, and following national guidelines, it is necessary for people to be tested as a precaution."
'So professional'
Mr Woods said he had advised the council and Blackpool Victoria Hospital on body piercing and gives lectures about piercing safety.
Lancashire Police and the NHS are among the groups he has given talks to.
"My reputation is being trashed and I have no idea why," he said.
Mr Woods said the clinic was inundated with calls from customers offering support.
Janine Tinsley, 33, from Blackpool, said she went in especially to have her ear pierced to show her support.
She said: "I have been coming here for years and never had any problems.
"I wouldn't trust anyone else because he is so professional."
The council said there were no issues with previous inspections and said it had invited Mr Woods to an interview on 17 October.