Men who trafficked Slovakian slave bride to Burnley jailed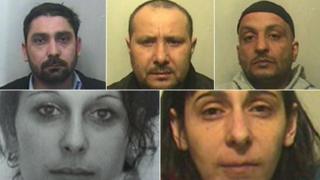 A man who assaulted, raped and held a woman prisoner after she was snatched from Slovakia and trafficked to Lancashire has been jailed.
Azam Khan "bought" the woman and "married" her at a local mosque in a bid to halt his deportation from the UK to Pakistan.
Five other people helped in her trafficking after she was snatched in August 2012, Preston Crown Court heard.
Khan, 34, of Brougham Street, Burnley was jailed for 12 years.
The victim's story was described by prosecutor Joe Boyd as like "something from a 19th Century novel by Dickens".
'No money or documents'
The Crown Prosecution Service's Emma Kehoe said the woman had been "falsely imprisoned, beaten and raped".
"She had no money or identity documents and she was unable to speak English or ask anyone for help," she said.
"She was threatened and told she was not allowed to leave."
The woman was brought to England on a coach and kept prisoner by Imrich Bodor, 45, and Slovakian Petra Dzudzova, 27, both of Clipstone Street, Bradford.
Bodor was sentenced to nine years in prison. Dzudzova is due to be sentenced at a later date.
Before being sold to Khan, she was handed over to Afghani Abdul Sabool Shinwary, 38, of Washington Street, Bradford, who sexually assaulted her, and Slovakian Kristina Makunova, 37, of Girlington Road, Bradford.
Shinwary received a prison sentence of 10 years and three months.
Makunova has already served a 51-week prison sentence after previously pleading guilty to human trafficking and false imprisonment offences.
Khan's relative Nusrat Khan, 40, of Colne Road, Burnley was also found guilty of false imprisonment and received a jail sentence of nine months, suspended for two years.