Travellers told to leave Hardhorn site by January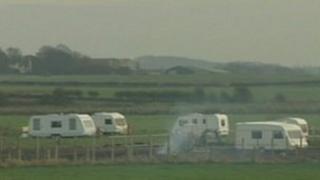 A group of travellers on a site in Lancashire have been told they have until January to leave after a ruling at the Court of Appeal.
The site in Hardhorn, near Poulton-le-Fylde, has been home to 78 travellers, including 39 children, since 2009.
The Court of Appeal ruled the government acted properly in turning down a planning appeal by the travellers back in 2011.
The travellers were also told they could not appeal to the Supreme Court.
The group arrived on the site off Fairfield Road in November 2009.
They own the land but did not have planning permission when they put down hardcore materials to make it a permanent site.
Their application for retrospective planning permission was rejected by Fylde councillors in June 2010.
An appeal to the decision to the Secretary of State for Communities and Local Government was turned down in 2011.
One of the members of the group, Elizabeth Collins, unsuccessfully challenged that decision in the High Court.
The Court of Appeal upheld the High Court's ruling and the enforcement notice, meaning the group will have to vacate the site by 3 January.
The Court of Appeal also ruled no further appeals could be made to the Supreme Court.
Fylde Council's Head of Governance Ian Curtis said: "We felt all along that the appeal decision by the Secretary of State was the correct one and we are happy that the Court of Appeal has agreed with us.
"Local residents have been very patient and I assure them that we will continue to be very aware of their concerns.
"The travellers also have interests that need to be considered but at the end of the day the proper planning process resulted in a decision that the development of a caravan site at this location was not appropriate."
He added: "There really were no grounds for people just turning up and turning a green field into a residential area."
Representatives of the travellers declined to comment on the decision.