Blackpool fire: Residents evacuated after suspected arson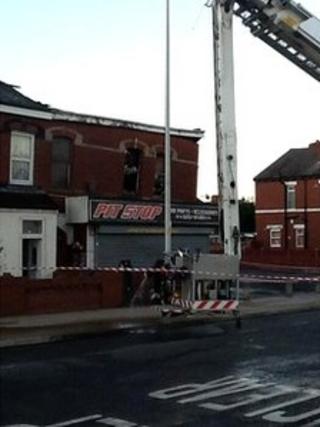 Police believe a large Blackpool fire which saw 25 people evacuated from their homes was "started deliberately".
The fire service was called to the Pit Stop car parts shop in Bloomfield Road at about 04:45 BST. At its height, 50 firefighters were in attendance.
Lancashire Fire and Rescue said a door was broken down to rescue a person trapped inside. Some local residents were moved to a rest centre.
Firefighters are damping down at the scene.
Simon Bone, from the fire service, said people had since been allowed to return to their homes.
"The crews were faced with a rapidly developing fire which started in a backyard area and spread to the roof," he said.
Det Insp Gareth Willis, of Blackpool Police, said: "We now believe that this fire was started deliberately and I would appeal to anyone who has any information or anyone who has seen anything suspicious in the area at or after 03:00 BST to get in touch."