Kathleen Ferrier show opens in Leyland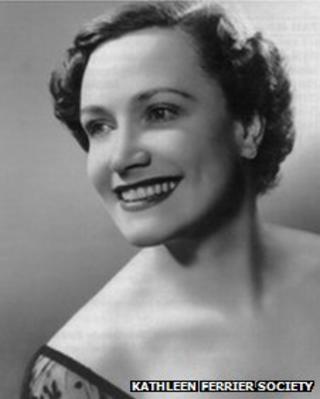 An exhibition has opened celebrating the life of international singing star Kathleen Ferrier.
The contralto singer, who was born in Higher Walton in 1912 and later moved to Blackburn, died 60 years ago. She was 41 years old.
The exhibition features her music books, letters, artwork and a film - Klever Kaff: A tribute to Kathleen Ferrier.
The exhibition is at South Ribble Museum and Exhibition Centre.
'Most popular lady'
Curator David Hunt said the exhibition was called Klever Kaff as that was how she signed her paintings.
Mr Hunt described her as "one of the world's greatest musical artists".
The exhibition in conjunction with the Blackburn Museum and Art Gallery runs until 26 October.
He said during World War II, Ferrier sang for the troops and worked for the Committee for the Encouragement of Music and the Arts, the forerunner of the Arts Council.
The singer was well known for her rendition of folk song Blow the Wind Southerly.
She also played the title role in composer Benjamin Britten's second opera, The Rape of Lucretia, in 1946, and she starred as Orfeo in Gluck: Orfeo ed Euridice a year later.
She then went on to tour the Us and was appointed a CBE.
Mr Hunt said the country was shocked by her death from cancer on 8 October 1953. as she had kept her condition hidden from the public.
He said: "When she died she was thought to be the most popular lady in Britain behind the Queen."
A group set up in appreciation of the singer, the Kathleen Ferrier Society, was formed in 1993 and has more than 200 members.
The Kathleen Ferrier Memorial Scholarship Fund, founded in 1953, is still going.