High Court rejects bid to stop Heysham-M6 road link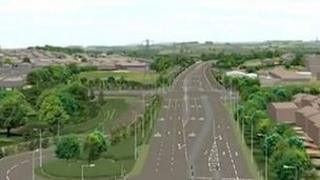 A High Court judge has rejected an attempt to block a major road linking Heysham and Morecambe to the M6.
Transport Solutions for Lancaster and Morecambe (TSLM) sought a judicial review against the £123m road, approved by the government in March.
But a judgement from a hearing in July, which has only now been released, ruled there were no grounds for a review. TSLM plan to appeal the decision.
Lancashire County Council believes that the scheme will drive economic growth.
At the hearing, Mr Justice Turner rejected the organisation's claim that the wrong procedure had been used to gain planning consent.
He also said that the development consent process was thorough and comprehensive and it was overwhelmingly likely that consent would have been given for the scheme, regardless of the route.
TSLM Chairman David Gate said the road would not "help congestion in Lancaster [or] help regeneration in Morecambe".
"Businesses don't really think it will work. When asked, not a single business contributed a single penny towards it."
Councillor John Fillis, cabinet member for highways and transport, said the road had been given development consent "because there's such a strong case for it in terms of value for money and the benefits to the economy and local transport".
"We've always been confident of the case for the road, which enjoys wide support from people and businesses in the area and I'm very happy that we are closer to getting on with the job."