Cuadrilla pulls out of Lancashire fracking site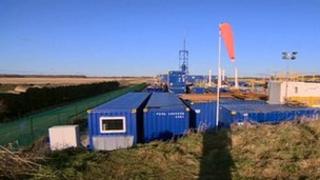 Shale gas company Cuadrilla has pulled out of one of its potential fracking sites in Lancashire.
The company said it would not seek consent to frack for gas at Anna's Road in St Annes and would restore the site to its previous condition.
Cuadrilla's chief executive Francis Egan said the background to the move included "technical constraints related to wintering birds".
Anti-fracking campaigners said the company was not welcome in Lancashire.
Cuadrilla said other sites showed "greater potential at this time" and it would continue to assess other options for exploration.
Mr Egan said: "We are continuing our site selection assessment and will continue to keep local communities fully informed and engage with them on our plans as they develop."
Whooper swans
Friends of the Earth's North West campaigner Helen Rimmer said: "We're pleased they've pulled out but we want them to pull out of all of Lancashire because of the huge threat to the environment.
"They've obviously felt the pressure of the huge local opposition and know they're not welcome."
Harry Huyton from the RSPB said it was "not consulted on the Anna's Road site", so had not examined the proposal in detail.
He added: "It is promising news that Cuadrilla has taken wildlife into account in this case, but in the long term there must be a statutory obligation of drilling firms to assess the impact any proposal will have on birds and other species."
The RSPB added the site was close to the wetlands of the Lancashire coast, with pink-footed geese and whooper swans returning to the area for winter.
Defend Lytham, an opposition group, said the Anna's Road well had been "effectively abandoned some time ago" and Cuadrilla had experienced "various technical issues" there.
A spokesman said: "It comes as no surprise to us that they have decided to cut their losses and discontinue operations there.
"Defend Lytham have always maintained that the site is totally inappropriate for a shale gas development given its proximity to housing and the inadequacy of the local infrastructure."
Drilling suspended
Fracking is a technique where water and chemicals are pumped into shale rock at high pressure to extract gas.
It was temporarily banned in the UK after it was blamed for two earth tremors in Blackpool in 2011.
A government review has now concluded fracking is safe if adequately monitored.
Planning permission was granted for exploration activities at the Anna's Road site in April 2010.
Elsewhere in Lancashire, Cuadrilla has sites in Elswick, Grange Hill, near Singleton, Preese Hall, near Weeton and Becconsall, near Banks.
Cuadrilla said the company has planning permissions for a small number of other sites, but no work had been carried out.
The company has suspended all drilling in Lancashire until 2014.