Tory leader challenge at Lancashire County Council fails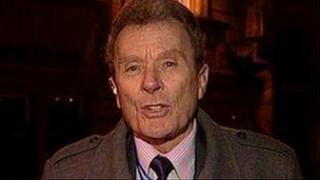 A challenge to remove the leader of the Conservatives on Lancashire County Council has failed.
A vote on Geoff Driver's leadership was was held in a Tory group meeting at Preston's County Hall amid concerns about his approach.
The vote was 18-14 in favour of Mr Driver continuing as leader.
Liberal Democrat Bill Winlow previously complained of being "physically confronted" by Mr Driver during talks to form an administration on 21 May.
The two party leaders were trying to negotiate a deal between the Lib Dems and the Conservatives after the election on 6 May left no party in control.
The council's conduct committee ruled Mr Driver should apologise to Mr Winlow, councillor for Preston West, for his behaviour during negotiations between the Labour, Conservative and Liberal Democrat groups to form an administration.
Mr Driver, who had been leader of the council until the election, strongly denied the claims, describing them as "a pack of lies" and refused to apologise.
The Labour and the Lib Dem groups went on to form an administration to run the county council, which is now led by Labour's Jennifer Mein.
During his time as county council leader, Mr Driver signed off a £5m fleet contract awarded to BT. The tendering process of that is now being investigated.
The council's chief executive Phil Halsall has been suspended on full pay while that investigation into the tendering process is carried out.
Mr Driver, who was leader of the council for four years, did not want to comment on the leadership vote.