Ex-Rossall School teacher charged with children abuse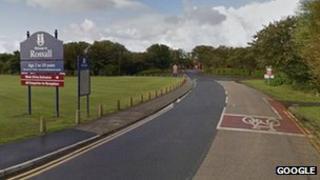 An ex-teacher at a private school in Lancashire has been charged with historical child abuse offences involving three children aged between eight and 12 said police.
Roy Ball, 80, from Clevedon, Somerset, who taught at Rossall School, Fleetwood is accused of indecently assaulting the children in the 1970s in Fleetwood.
He is also charged with 14 offences of possessing indecent images.
Mr Ball is due to appear before Blackpool magistrates on 22 October.
Lancashire Police said it follows an investigation launched in November by Fleetwood CID.
Mr Ball, of Edward Road South, has been bailed until his appearance at Blackpool Magistrates' Court.
Rossall School on Broadway was founded in 1844 as an Anglican boys' boarding school.
The school accepted girls in the 1970s and has almost 600 pupils including boarders.