Sir Richard Arkwright: Statue campaign for Preston industrialist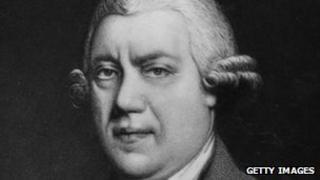 A campaign has been launched to raise £100,000 for a statue to commemorate an entrepreneur of the Industrial Revolution who was born in Lancashire.
Sir Richard Arkwright, born in Preston in 1732, developed mills that could mass produce yarn.
Campaigner Wilf Boardman said he felt Arkwright had been overlooked.
He said: "James Watt, Isambard Kingdom Brunel, there's statues all over the place of these pioneers, but there's no Arkwright."
He added: "He was the first, the others were inspired by Arkwright,"
Mr Boardman said the only memorial to Arkwright in Preston was a blue plaque on the wall of Arkwright House, a Grade II listed building in the Stoneygate area of the city.
Arkwright set up the first water-powered cotton mill at Cromford, Derbyshire, in 1771.
He patented a spinning frame in 1769, also known as a water frame, which was the first textile machine designed to be powered by water.
It mechanised the hand-operated spinning process, making it possible to manufacture inexpensive yarns to make cheap cottons.