High suicide-risk prisoner Kieron Gray was 'failed'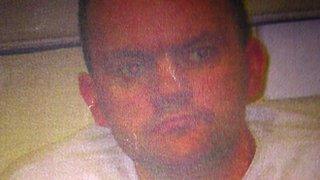 A "very serious failing" led to the death of a suicide-risk prisoner who killed himself on his first day in prison, an inquest heard.
Arsonist Kieron Gray, 42, from Blackburn, used a razor to kill himself in a shower at HMP Preston.
Prison officers had ignored reports that he was a suicide risk, Preston Coroner's Court heard.
Lancashire Probation Trust has since made changes to its procedures, coroner Dr James Adeley said.
Lancashire Probation Trust compiled a pre-sentence report that said Mr Gray would be considered a "very high suicide risk" if he was sent to prison.
'Failure to act'
The coroner highlighted the following failures:
Court custody staff were unaware of his high suicide risk even though was it was highlighted by the probation service
The pre-sentence report was sent with Mr Gray to the prison but was not read by staff
The report marked "risk of self-harm" was faxed to the prison but the officer who found it made "no attempt" to notify staff or find Mr Gray
The fax was left on a prison nurse's desk but was not brought to her attention
Dr Adeley said: "The failure of timely delivery, failure to act upon warnings sent and the lack of appreciation of information within the prison warning of an immediate risk was a very serious failing in the state's safe detention practices of prisoners."
His recommendations to change prisoner handling procedures will include a review of the system for recording receipt of risk of self-harm reports and whether those reports accompany the prisoner to prison.
'Catalogue of errors'
He is also calling for a review of disposable razors given to high-risk prisoners, the inquest heard.
Mr Gray, of Coleridge Street, set fire to his ex-girlfriend's flat, on Wellington Road, Blackburn, Lancashire, on New Year's Day after their relationship ended.
He was jailed for two years at Preston Crown Court in August 2011 after being convicted of arson with reckless endangerment to life.
Solicitors acting for Mr Gray's family criticised a "catalogue of errors" that led to his death.
Kelly Darlington, from Farleys law firm, said: "The inquest into the death of Kieron Gray highlights a catalogue of errors in the way information is communicated and managed between organisations involved in sentencing an offender to prison.
She added: "These recommendations aim to ensure that custody is a safer place for prisoners who pose a high risk of self-harm."
The coroner recorded a verdict that he took his own life.
A Prison Service spokesperson said: "We will carefully consider the coroner's report to see what lessons can be learned, and respond in full."