Blackburn College credit card fraudster Shaheda Lorgat jailed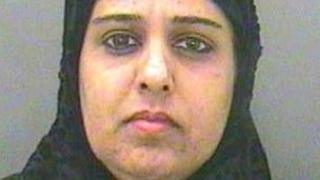 A woman who worked at a Lancashire college has been jailed for fraudulently spending over £21,000 on the college's credit card.
Shaheda Lorgat, 42, of Mossdale, Blackburn, had previously pleaded guilty to 19 counts of fraud by abuse of position, police said.
The offences took place while she was working as a purchasing officer at Blackburn College.
At Preston Crown Court she was given a 12 month sentence.
Between July 2008 and January 2012, Lorgat used the credit card for a trip to Alton Towers, holidays, personal legal bills, renovations and repairs on her bathroom, sunglasses and food shopping.
The fraud came to light in February last year when a member of staff noticed discrepancies on the card, police said.
PC Anita Whittle said: "I hope that today's sentence shows that fraud of any kind will not be tolerated."