City Deal worth £1bn will 'clear Preston's gridlock'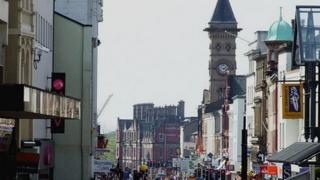 A deal delivering a £1bn investment over the next 10 years to clear Preston's gridlock has been signed by the government and three councils.
Preston, South Ribble and Lancashire County signed a City Deal with the government in Downing Street.
Four road projects will be developed, paving the way for 15,000 new homes in an area including the centre and outskirts of Preston and South Ribble.
County council leader Jennifer Mein said she was "relieved".
The councils say removing the gridlock is the key to the area's future prosperity and hope the developments will also lead to the creation of 20,000 jobs.
"Our roads are full - gridlocked," said Ms Mein (Labour).
"People want to come here and work but we need better infrastructure for more private sector jobs."
She also said new houses could not be built unless the road system was improved.
There will be new road links - including one from the M55 to BAE at Warton - and road-widening.
Deputy Prime Minister Nick Clegg called it a "historic deal" for Preston and Lancashire.
While Minister for Cities, Greg Clark, added: "This deal will be crucial in helping Preston and Lancashire attract outside investment with new transport links, housing and employment sites dramatically improving the growth potential of the entire region."
In October 2012, the Government invited 20 cities and their wider areas, including Preston, to negotiate for the second wave of City Deals, which will see devolved powers in exchange for responsibility for delivering growth locally.