Unions demo over Warrington Council senior bosses' pay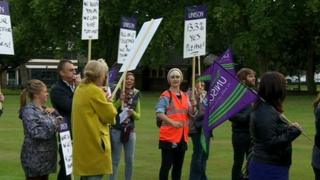 Council workers have protested over plans for some senior bosses to get pay rises of more than £10,000 a year.
GMB, Unison and Unite union members demonstrated outside Warrington Borough Council offices where the 4.4 to 13.3% increase was being discussed.
The GMB claimed the rise was "immoral" as council staff were given a 1% increase after a three-year pay freeze.
Councillor Hitesh Patel said some senior managers had "bigger responsibilities" following job cuts.
'Increased workloads'
Bob Pinnock, GMB branch secretary, said: "These pay rises far exceed the 1% national pay award that the government put in place via a cap on pay increases.
"It seems that senior management are exempt from any pay cap and can be accommodated by an external review that puts into place a pay and grading structure that has not been consulted on."
He said council staff workloads had increased because of a reduced number of staff.
Mr Patel, executive board member for personnel and communications at Warrington Borough Council, said: "We've had to cut council spending so we've cut the number of senior management posts.
"That necessarily means some senior managers have bigger responsibilities than previously.
"The bottom line is that this proposal will save the taxpayer more than £200,000 over a year, compared with the current senior management structure."