Lancashire County Council 'secretly accessed emails', says former leader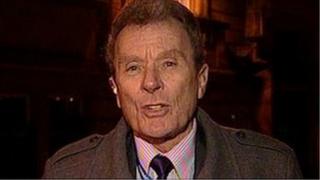 Councillors' emails have been secretly accessed by Lancashire County Council officials, says the former leader of the authority.
Conservative Geoff Driver CBE said he was "horrified" his emails had been accessed and was taking legal advice.
It was part of an investigation relating to the suspension of chief executive Phil Halsall over the tendering of a contract, he said.
The authority would not comment on the case but said it could access emails.
'Scandalous and outrageous'
A spokesman for Lancashire County Council (LCC) said: "It would be inappropriate for the county council to comment on this specific matter.
"However we do have a procedure in place to allow access to any county council email account when appropriate clearance has been given."
Mr Driver, councillor for Preston North, said he challenged a senior officer on Friday who confirmed to him his county council emails were among those which have been secretly read.
Mr Driver, who was appointed a CBE in the Queen's Birthday Honours list in June, said it was "scandalous and an outrageous infringement of privacy".
The investigation follows an independent review of the tendering process for a contract to run the council's fleet services.
Mr Halsall was suspended in August.
Interim chief executive
He described allegations as "complete nonsense" and said he was "vigorously" pursuing his reinstatement.
Jo Turton, the council's executive director for environment, has been appointed interim chief executive.
Labour councillor Jennifer Mein was appointed as the new council leader on 23 May after the Conservatives lost overall control in the local government elections on 6 May.