Blackpool Zoo hand-rears rare penguin chicks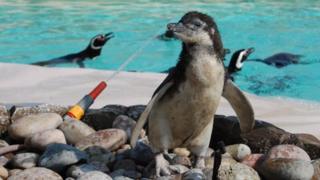 Zoo keepers have worked around the clock to hand-rear two rare penguin chicks after they were abandoned by their parents.
Gandalf and Pippin, the UK's only two Magellanic penguin chicks, were reared at Blackpool Zoo.
The chicks hatched in May after keepers were forced to take the eggs from the nest as they were being neglected.
They have now been successfully integrated with the rest of the zoo's penguin colony.
The chicks were among 270 eggs hatched and cared for by the zoo's specialist team since January.
John Paul Houston, senior bird keeper at Blackpool Zoo, said: "We have had our busiest and most successful year here in the bird department at Blackpool Zoo.
"It is wonderful to see all the chicks integrated back into their groups and visitors love to see Gandalf and Pippin showing off their swimming skills in the penguin pool."
Blackpool Zoo has held the only group of Magellanic penguins in the UK since 2009.
The penguins hail from South America and breed in coastal Argentina, Chile and the Falkland Islands, with some migrating to Brazil.