Solar panel plans revealed for Gerard Hall in Aughton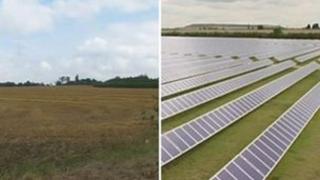 Proposals for a large-scale solar energy project in a Lancashire village have been unveiled to residents.
Hive Energy wants to place solar panels on 110 acres of farmland at Gerard Hall in Aughton, near Ormskirk.
The firm, which claims the panels would provide enough energy to power 6,000 homes, said a planning application would be submitted next month following consultation with residents.
Some residents object and are fighting to protect the greenbelt land.
'Rich in flora and fauna'
Julia Walgar lives near the farmland and leads walks in the area.
She said although she was keen to use green energy she was concerned about the visual impact and the potential effect on wildlife.
Ms Walgar said: "It's a very flat area and they would be very noticeable.
"Also, it could destroy the habitat. You see a lot of hares and rabbits regularly, and lots of barn owls about.
"It is an area rich in both flora and fauna - it is a shame to destroy that."
'Reversible and temporary'
Tim Purbrick, commercial director at Hive Energy, said after the public meeting: "There was a lot of different views expressed, including a lot of positive feedback from people pro-renewable energy."
Mr Purbrick said residents' concerns would be assessed before any planning application was submitted to West Lancashire Borough Council.
He said the project was "reversible and temporary" and said the land was perfect for the scheme as it "had good solar radiation" and connection to the electricity grid had been offered by Scottish Power.
If the proposals are approved by the council, Mr Purbrick said the solar panels could be in place by next summer.