Lancashire breeder banned from keeping horses and fined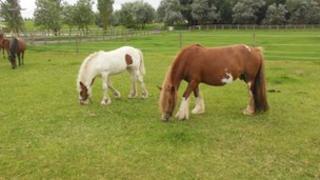 A horse breeder has been fined £5,000 and banned from keeping horses for 10 years, after admitting causing unnecessary suffering to the animals.
Steven Lee, 27, from Preston, admitted the charge relating to four horses that died and were kept in a field in Marton.
A animals were removed from a field by the RSPCA and charity World Horse Welfare.
The charity said it was snowing and the horses had little food and no shelter.
John Cunningham, welfare field officer at World Horse Welfare, said four of the eight horses were suffering a severe parasite infestation and two had to be put down. Two of the horses had already died.
David Catlow of Oakhill Veterinary Practice, Preston said the horses suffered "unnecessarily for at least two weeks," but may have been ill for many months.
The court heard Mr Lee failed to provide adequate veterinary care and worming medication in order to protect his horses from pain and suffering.
He admitted causing unnecessary suffering to the horses when he appeared before Blackpool magistrates last month.
Mr Lee was ordered to complete 100 hours of community service by magistrates.